Course
Humoristic
drawings
Press cartoons
Sculptures
Posters
Comic Strips
Carnivals
Communication
Logos
Set decorations
With the school
Speeches
Cannes
Film Festival
World Soccer Cup
Videos
Poetic drawings
Japan
Press
Downloads
With other artists...
Made to Order
Livres
Contacts
Links
PORTRAIT
Kristian was born in Grenoble in 1960. His first cartoon is published in 1981 in the Dauphine Libere newspaper. Today his cartoons and current event drawings can be seen in more than 12,000 publications in France and abroad. He has also expanded his art to publicities, stage settings for plays and decorations for buses. His work has been shown in many different exhibitions in France, Germany, Belgium, Bulgaria, Canada, Spain, Estonia, Italy and Mexico, as well as the in Oceanic Museum of Monaco, the Peynet Museum of Antibes and numerous exhibitions in Japan since 1996 ( Tokyo, Yokohama, Fukukoa, Osaka and Nara) and in Colombia in 2008. He even has one of his drawings in the Paris Museum of Contemporary Art.
He collaborated in the 43rd and 47th International Film Festival of Cannes and had, for 13 years a weekly review ( Kristian's Week) on TV channel France 3 Cote d' Azur.
For the 1998 Soccer World Cup, his cartoons were placed on T-shirts, wine bottles and phone calling cards. He has realized logo for big department store as well.
Since 2001 he has been an official designer for the Nice Carnival floats, always ready to take on any new assignment with his sharp and sharpened pencil.

Various prizes and reward :


2009 big international prize of the soft humor
International show of the drawing of press and humor of St Juste le Martel
1999 Techno-d'Or Sophia Antipolis
1997 Jury Prize of the Show of the Humor of Juvignac
1995 2nd prize for Best Calling Cards for France. "Fight against AIDS"
1994 Infatuation of the Press Club Riviera
1990 1st prize for its posters in the International Show of Saint Just le Martel
1985 Young Cartoonist voted best by readers of the weekly " Ici Paris "
Kristian receiving the international great prize of the humor tender ... a true sheep!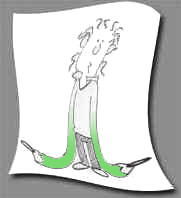 etc...